Outreach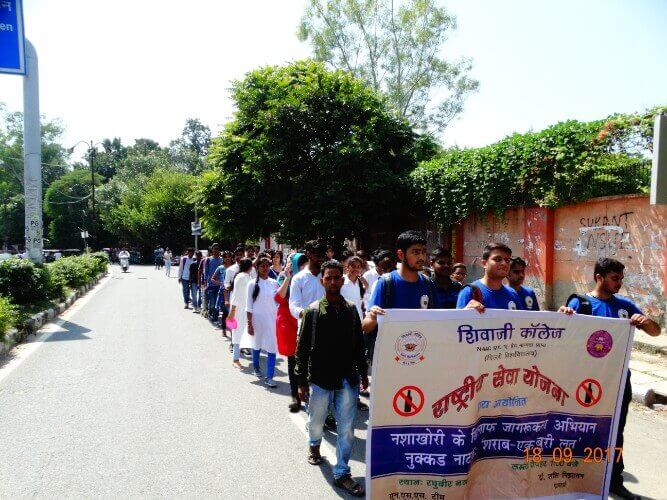 "A friend in need is a friend indeed!" so goes the old saying. Shivaji College is friend to those many communities and issues in need of collective intervention. At Shivaji College, we live by the motto that learning is complete only when one's education is of value to others. To this end, many community outreach groups have been set up in Shivaji College. Outreach programmes like awareness raising campaigns, collection and donation drives, educational projects for children in slum dwelling, and interesting science camps are organised routinely by different issue-based groups at Shivaji College.
Enactus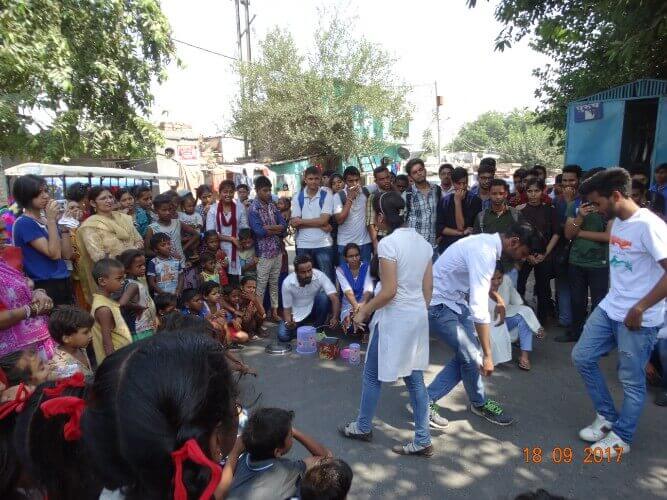 The Enactus chapter at Shivaji College is part of Enactus India – a network of students, faculty and business leaders. Their sole focus is on alleviating socio-economic challenges faced by economically weaker sections of the society. In little measures, they fulfil significant social responsibilities towards communities in need. Enactus at Shivaji College provides platforms to numerous individuals and agents to sell and promote their products at several melas held in the premises of the college at Teej and Diwali celebrations. Such melas offer these women entrepreneur and skilled workers with opportunity galore to broaden their market base and build new business relationships. Launched in 2017, "Project Bandhini" is one such ongoing project wherein waste fabric is transformed into desirable everyday utility products like folders, tissue box holders, purses, etc. The team that oversees this project strives to empower women and offer them possibilities to be self-dependent.
Apart from this, Shivaji Enactus also initiates collection drives for books and clothes. These collections are then donated to children at orphanages in West Delhi.
INSPIRE Internship Program
Innovation in Science Pursuit for Inspired Research (INSPIRE) is an innovative programme sponsored and managed by the Department of Science and Technology. This programme is organised in collaboration with Shivaji College. The objective of this programme is to orient young minds to the excitements of creative pursuit of science. This programme was conceptualised with the agenda to attract young talents to the study of science at an early age. INSPIRE Internship Program motivates intelligent and inquisitive students to pursue careers in natural sciences and thereby strengthening the National Science and Technology base in India. Fascinating lectures, hands-on experience in state-of-the-art science laboratories, and visits to organisations of international repute in Delhi comprise such science camps. Many students from reputed school eagerly enrol for this joint venture of Shivaji College and Department of Science and Technology.
Inspire Camp organized by the college in Dec 2016: Download
NSS Outreach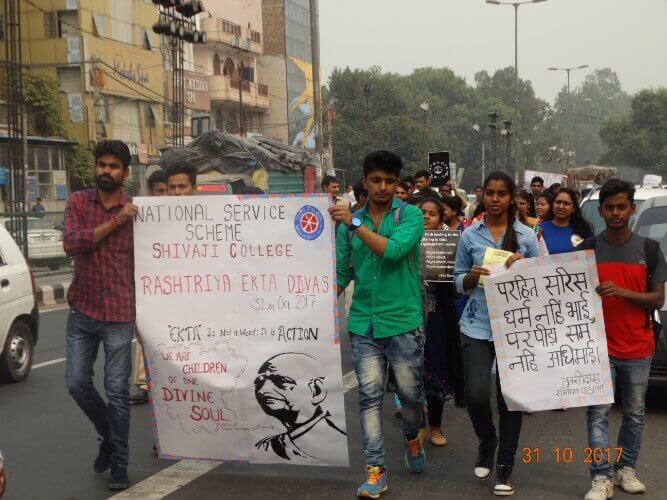 NSS volunteers at Shivaji College continually reinvent themselves in working for the betterment of communities of children and old age people. An initiative undertaken by NSS is "Pehal – Ek Prayaas." Student volunteers devote two hours every day and teach underprivileged children from Raghubir Nagar (slum area). They engage these children in two slots (morning and evening). In the last season of this project, students attended classes five days a week and were taught Science, Maths, English, Hindi, Social Science, and G. K. along with extracurricular activities. This exercise instilled a spirit of aspiration towards attaining education.
Apart from doing their bit for growing children who are mostly too poor to attend formal schools, the NSS volunteers also serve the needs of aging community. As part of community outreach services, student volunteers routinely visit old-age homes. The beginning of 2018 was marked by the noble services the student volunteers extended toward elderly people. They visited Apna Ghar, the home for homeless and physically challenged people.
SPADE
Society for Practical Applications and Development of Economics (SPADE) set up in 2017 is one such society that works toward understanding and sensitisation of socio-economic problems faced by diverse sections of our society. Under its aegis, SPADE organises numerous dialogues, lectures, and presentations that inform the student community of the new and diverse forms in which socio-economic problems rear their head. Since its inception, SPADE has achieved phenomenal increase in raising awareness among students, and a number of student volunteers have enlisted for the programmes and initiatives undertaken by SPADE. On February 20, 2018, SPADE launched a book titled Arthmanthan as part of the one-day event Annual Consortium for Excellence (ACE of SPADE). This book brings together discussions and deliberations on latest issues of socio-economic problems faced by people. A documentary, The Dark Seed, which presents the everyday challenges of farmers and remarks by noted scholars, was also screened as part of the programme.
Women's Development Cell (WDC)
Shivaji College has a Women Development Cell that seeks to create awareness of issues that afflict society related to gender disparity. It is common knowledge that the sex of a boy or a girl is biologically determined and gender inequality is created by social mores. Through this cell the college makes befitting interventions in an effort to create an egalitarian society.
The cell uses multifarious ways to sensitize people about gender disparity and the need to find solutions which could be equally multitudinous. The Women Development Cell organizes many lectures, workshops, seminars and conferences to this effect. Efforts are also made to stimulate and shake up the lives of the people around in a celebratory mode in the form of fairs for gender equality. It is very encouraging and satisfying that the cell enjoys the participation of all members of the Shivaji family, the principal, teaching and non- teaching staff and the students. Many NGOs and other guests also engage with the college in the most helpful and positive manner.
The cell aims to continuously and systematically cajole the conscience of society so that the oppression, disadvantages and physical violence that women face can be brought to an end in the professional, personal and public space. The interventions that the Women Development Cell makes are as much in earnest as the malaise is expansive and deep.
Lives of some men and women who challenge patriarchy and exploitation to pave the way for an equitable society, with opportunities for all irrespective of gender, are celebrated annually by the college. Such members of the society are felicitated with the Jijabai wards and their struggles and journeys are showcased in an elegant book. The book is released during the course of a seminar which is also organized every year on issues related to gender equality and the lack of it. Apart from this annual event, WDC also conducts various awareness campaigns to sensitize students and teachers alike about the subtle forms in which patriarchy operates. It also organises numerous seminars and lectures, deliberating on legal and other ways like counselling, career guidance among others to tackle gender disparities and sexual violence. For the past several years, WDC has had a successful celebration of achievements of women and looks forward to another year of issues and challenges regarding gender equality.
Presently WDC has partnered with Srijanatmak Manushi Sanstha (SMS), SHEROES and FICCI Ladies Organization (FLO). By tapping their experience in the field of gender equality, WDC organizes workshops on gender sensitization. and trains young adults in developing a receptive attitude towards gender issues. As a WDC partner SHEROES has offered its AskSHEROES helpline- a professional /personal counseling support by experienced counselors. It is a service to support youth in career, love and relationships, health, LGBT queries and beyond. And the best part is that it is absolutely free of cost.
https://sheroes.com/career-helpline?_branch_match_id=560333522524378454