Facilities
Auditorium
The central auditorium at Shivaji College is equipped with state-of-the-art audio-visual systems and stage lighting arrangement. It has a seating capacity of 400 people and is centrally air-conditioned. It also has a ramp to aid people who are orthopaedically challenged. Every year the auditorium hosts several cultural and educational programmes like seminars, debates, plays, film-screenings, departmental festivals, and so on. It is also the platform where new entrants are welcomed to the fraternity of the college. Students have used this stage numerous times to inculcate confident stage presence during their college life.
Banking Facility
The College has a branch of Central Bank of India within the campus. The staff and students are encouraged to open accounts at the bank. Students and staff members use the banking facility not only for college transactional purposes; they maintain their accounts for other personal uses too. The employees at the Central Bank of India are most willing to guide all account holders with any services that are most beneficial to them.
Career Counseling and Placement
Shivaji College has an industrious Placement Cell that coordinates hiring platforms for students. It organises not only campus placement but also various activities toward personality development and enhancement of soft skills. Final year students may register online to avail the placement services of the cell by clicking the link below. This cell also encourages and aids students in registering for the Central Placement Cell of the University. The placement team intimates students with latest information about placement sessions through emails.
This Cell also organises various career-counseling sessions for students to help them make important decisions regarding future educational and career prospects. Resource persons are also invited to deliver special lectures and seminars to prepare the students for the challenges and demands in corporate world. Over the years many students have been placed with reputed organisations like Thomson Digital (India Today Group), Capital IQ, Genpact,IBM, Infinity School of Management, HCL Technology, AON Hewitt, Jaipur rugs, INFOEDGE, MansukhSecuritied Ltd., Jaipur Rugs, Teach For India, EgonZehnder International, PC Solutions, and so on.
Register for Placements: Click here
Equal Opportunity Cell
The college has an Equal Opportunity Cell (EOC) that seeks to make the college space and environment more conducive to the needs and interests of students who are abled differently. This cell works toward inculcating self-confidence among students with special needs. The cell provides them with equal opportunities in academic and extracurricular activities. Be it the infrastructural facilities or the resources in the college that aid the learning of these students, Shivaji College under the aegis of the EOC extends all possible assistance to students with different abilities in aspiring for and materialising their goals. The members of EOC conduct counselling sessions for students fortnightly to address different issues and challenges faced by them.
There is a separate room with computers, scanner, printer, and Daisy player (reader) in the college for PWD students. Laptops with MBDA Software are available in the College Library for visually challenged students. There are 286 Braille books and CDs on various subjects for the students in the college library. The library is also equipped with software LEX that can scan a book and convert it into Braille and vice-versa. An I-pod, a tape recorder, and photocopy facility have also been provided at the disposal of the visually challenged students. The college also provides Angel Recording System for the students to aid academic pursuits. Special washroom is provided for differently abled students on the ground floor. The college also exempts these students from paying annual fee.
Apart from all the infrastructural developments aimed toward enabling numerous students with special needs, the cell also organises programmes and regular meetings in the college to bring out, hone the talent of these students, and solve their problems. These programmes indeed nurture diverse talents. Despite the everyday challenges these students face, they excel in their performance and in displaying their skills and talents.
Food Corner
This is one of the most popular spaces in the college. It is a place where friends unwind, bond and discuss assignments and projects while munching on tasty food. Great food, affordable prices and good ambience make the college cafeteria the most frequently visited place in the college. Apart from the college canteen, there is also Bru Cafeteria and Mother Diary Booth to cater to the need of students and staff members. These food joints provide fresh and hygienic food all the time, and not to mention the environment-friendly practices they follow. Use of plastic cups and plates are banned at these joints.
Laboratories
The college has modern, well-equipped and efficiently managed laboratories for all science courses such as Physics, Chemistry, Zoology, Botany as well as Geography. Four air-conditioned Computer Science labs provide access to sophisticated software and high-speed internet to students and staff. Classrooms are equipped with projectors to assist in audiovisual mode of teaching.
Library
Shivaji College Library has a diverse collection of over 72,830 (seventy two thousand eight hundred and thirty) books of various disciplines. The Library subscribes to 48 newspapers and magazines and has a rich collection of various reference sources such as encyclopedias, dictionaries, atlases, and yearbooks, etc. The Library also provides access to about 6000 e-journals and 97,000 e-books through N-List Programme of INFLIBNET and a host of high quality electronic databases subscribed by Delhi University Library System (DULS) to its users.
There are two air-conditioned reading halls for students and teachers with computer and internet facility. Online Public Access Catalogue (OPAC) is installed on computer systems to ensure easy access of books. For visually challenged students, Braille kits consisting of 221 Braille books with CD's and other facilities are available in the library. The Library offers Inter Library Loan facility to its users on request. The Library in the past has borrowed and even issued books on inter library loan to nearby college libraries. The form maybe downloaded from the link given below. Apart from these facilities, users may also avail of the property counter at the entrance of the library. Users are required to deposit their Bags (excluding valuable items such as money, passport, credit/debit cards/mobile phones etc.) with the property counter attendant before entering the library.
Students are advised to follow the library rules as given in the link here
User manual for OPAC: Click here
Links to inter library loan and book reservation forms
For Inter Library Loan Form: Click here
For Book Reservation Form: Click here
Sports Facilities
Shivaji College takes pride in maintaining one of the largest sports ground in Delhi University College. All forms of sports such as cricket, football, basketball, table tennis, athletics, softball, and baseball are practised regularly in the sports ground. Facilities like changing rooms and storerooms for students are also available. The college sports teams participate in numerous inter-college and inter-university tournaments. Every year at the annual sports day, it is a tradition in Shivaji College to invite various national and international players of repute. These acclaimed athletes witness the athletic feats of the students and encourage them to endeavour tirelessly in the pursuits.
Staff Residence
The college provides a separate residential facility for the staff members, both teaching and non-teaching. The residential space is part of the college premises. It lies adjoining the well-pruned college garden. The residents enjoy the nearby facilities in Rajouri Garden like the hospitals, metro stations, local market places and malls. The residential campus has two blocks, one for the teaching staff and the other for the non-teaching staff. There are eight teachers' flats and four non-teaching staff flats. Rooms are spacious and well ventilated. There is parking facility and garage on the campus. The staff flats also enjoys a separate lawn besides the adjoining lawn in the main campus.
Medical and Insurance Facilities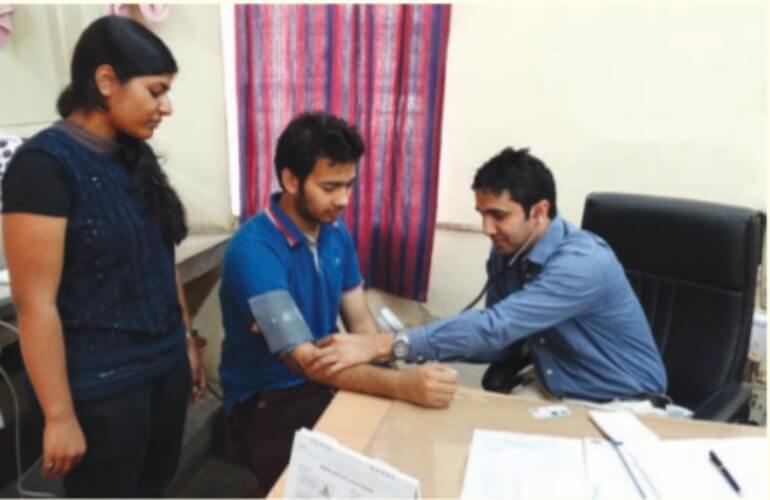 The WUS Health Centre on the college premises assists students and staff members in any emergency health situation and provide them primary medical care. It also caters to the retired teaching and non-teaching community. Apart from the benefit given to teachers, the health centre provides health care facilities to all students at the minimal rate of Rs.120 per year. This includes emergency services, free consultation, and free medical benefits. Students have to fill in a form available at the health centre and get the health card made.
College has made a provision for Accidental/Life Insurance Policy of Rs. 2,60,000/- (two lakh sixty thousand rupees) for students in association with National Insurance Company Limited (NICL). This policy covers the following risks: accidental death, permanent total/partial disability after accidents upon travelling by foot or by private and public transport. Premium amount worth Rs. 3,67,200/- inclusive of GST @ 18% will be afforded.
-
Counselling Sessions
Addressing the inhibitions of students and their well-being is of primary concern to Shivaji College. We understand it is not unusual for students of all age to experience social, personal and academic problems in their day-to-day life. Keeping this in perspective, Shivaji College offers the services of a counsellor that students can confide in. Dr. Kushal Kaushik attends to students for two hours on every Monday and Friday. This exercise has invoked a very good response from students.
Photocopy and Stationery
There are two photocopy shops and a stationery store located in college premises. Students do not have to run to nearby markets for stationery materials and photocopy facility at any time. These photocopy facilities are available at concessional rate applicable to educational institutions.