Societies
Cultural Societies
The college has a vibrant Cultural Society that provides a platform to students for displaying their creativity and talents. Different societies function under the aegis of cultural committee - music, fashion, dramatics, dance, fine arts, photography, and debating are some of them. The activities of the cultural committee are largely student-driven, and under the guidance of faculty members.
These societies practise and perform throughout the year. These societies have their individual executive bodies. They also induct new members through auditions at the beginning of the academic year. Besides giving platforms to student for honing their talents and skills, the societies also organise their respective annual festivals. The highlight of the cultural committee's activities is "Vibrations", the much-awaited annual cultural festival of the college.
The cultural society has also collaborated with SPIC MACAY to expose students to the rich and diverse cultural heritage of India. Shivaji College fraternity has been privileged enough to have experienced the performances of numerous renowned artistes like Padmashri Shovana Narayan, Pundit Ajay Prasanna, Padmashri Ranjana Gauhar and Dr. Deepti Omchery Bhalla in the past. Continuing the tradition of honouring our cultural heritage and individual talents, in 2017 the college invited Pandit Rajan and Pandit Sajan Mishra and Sharon Lowen enthralled the audience with their mesmerizing performances.
The Cultural Committee societies are as follows:
Bizarre: The Fashion Society
The Fashion Society at Shivaji College is the seat of future models, designers, and entrepreneurs. It has garnered interests among students from First Year itself. Every year, the best are selected in the audition held at the beginning of the academic year. The strength in which students participate and perform on stage have earned the appreciation of many experienced people in this field. They present fashion tailored in socially relevant themes. Repeatedly, this fashion cum sensitisation concepts displayed on stage have elicited appreciation and applause. Bizarre organises "Panache" during "Vibrations", in which several teams of DU and other universities compete. It is a highly recognised and lauded society in intra and inter- university competitive events.
Dictum: The Public Speaking Society
The Public Speaking Society - Dictum - provides a unique platform for students to hone their oratory and analytical skills. They organise exciting events such as parliamentary debate and conventional debate on a mega scale. The society nurtures and develops public skills in both English and in Hindi. The Society organises two competitions annually - The Shivaji Bhonsle Debate Competition and Athena. Both the competitions are extremely popular in the university circuit. They have received a high turnout and an enthusiastic response from students across Delhi University. Dictum has been the most successful society in the academic year 2017-18 with over 50 inter-college and national level prizes, and it strives to rise higher.
Office Bearers:
| | | | | | |
| --- | --- | --- | --- | --- | --- |
| # | Name | Course | Post | Contact | Email ID |
| 1. | Rahul Mishra | B. A. (Hons) Political Science | President | 7065488700 | rahulmishra1619998@gmail.com |
| 2. | Noor a Nabi | B. A. (Hons) Political Science, 2nd Year | Vice President, Hindi | 8226908601 | nooranabi999@gmail.com |
| 3. | Faizan | BBE (H) 2nd year | Vice President, English | 8447669315 | rajafaizan32@gmail.com |
| 4. | Vidha Srivastava | B.Sc. (Hons) Botany, Year I | Secretary | 9911552236 | vidha97@gmail.com |
| 5. | Jaspreet Singh Chugh | BA (Program) 1st yr | Treasurer | 8745911137 | jaspreetchugh8745@gmail.com |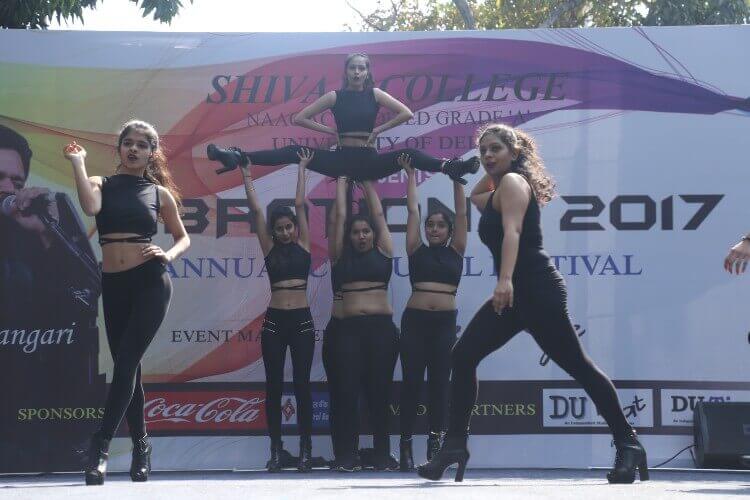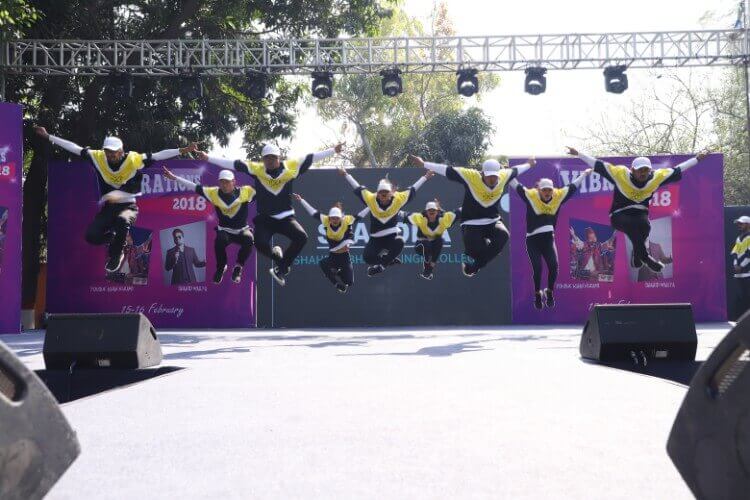 The Dance Society is for people who feel for dance. "We Breathe Dance" is the motto of the society and it wants everyone to feel that magic in themselves. The tagline "Dream of Every Foot" succinctly describes the society where the members follow their dreams and bring out the best in themselves. Footloose organises its annual competitive event "Tanzflache" and witnesses huge participation from across colleges and universities. It has won several prizes across the university as well as in other universities/institutes in and outside Delhi.
Office Bearers:
| | | | | | |
| --- | --- | --- | --- | --- | --- |
| # | Name | Course | Post | Contact | Email ID |
| 1. | Nitin Kumar | BBE Honours | President | 9643616748 | gaurnitin999@gmail.com |
| 2. | Niharika Sethi | B. A. (H) History | Vice President | 8586894040 | niharikasethi77@gmail.com |
| 3. | Shikhar Bisht | B.Com (Prog) | Secretary | 9971443099 | shikhabisht1410@gmail.com |
| 4. | Vishal Shakya | B. Sc. Mathematics (H) | Treasurer | 9643269689 | shakyavishal62@gmail.com |
Reverb: The Music Society
The Music Society inducts students who are passionate about vocal or instrumental music. The Reverb team has garnered praise by performing at all formal events in the college like Orientation day, Independence Day, Inspire Science Camp, and Annual day. The society organises its annual festival "Swaranjali". This platform attracts wide participation from different institutions. Many students of Reverb have taken up music as their career.
Office Bearers:
| | | | | |
| --- | --- | --- | --- | --- |
| # | Name | Course | Post | Contact |
| 1. | Samarth Jain | BBE (H) 2nd Year | President | 8375856422 |
| 2. | Harshit Garg | BBE (H) 1st YEAR | Vice President | 9654496813 |
Shutterbugs: The Photography Society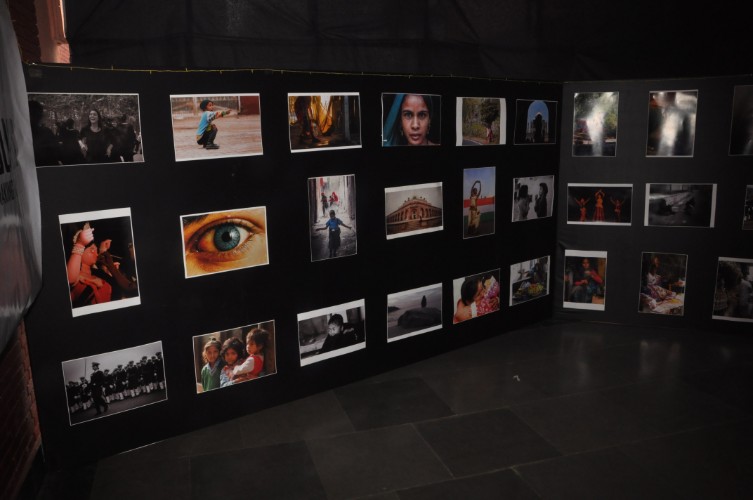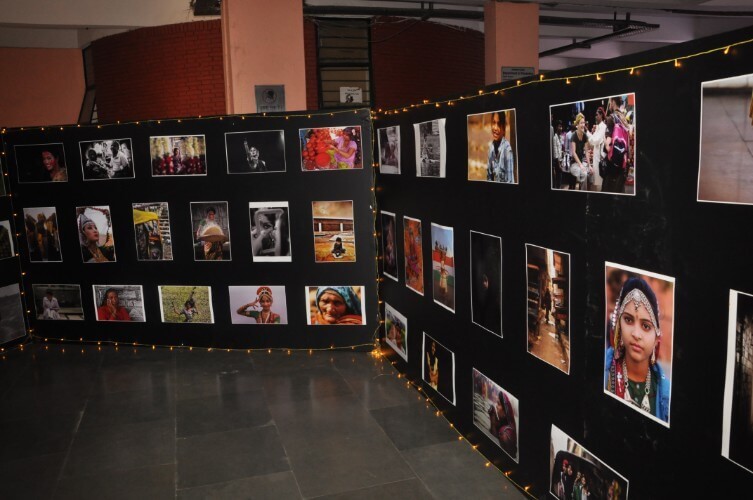 The Photography and Film making society of Shivaji College is dedicated towards nurturing the bond between budding photographers and their cameras. The society is categorised into three major divisions - the photography team, the film making team, and the script writing team. Each team focuses on enhancing the talent that individual member possesses. The selection for the different divisions of the society is based on the skills shown by the students during the audition, which is normally held in the beginning of the academic year. Shutterbugs has honed the talents and skills of the society members. That the society has distinguished itself at the university level is evident from the countless accolades and laurels it has earned. The Society works on advanced post-processing techniques. It also organises monthly photography trails across Delhi. In the past, Shutterbugs has organised trips all across the country, held discussions with most experienced artists, photographers, and filmmakers. Shutterbugs, through its annual event "Cinedrome", provides a platform to students for displaying their innovative ideas and narratives through short-movies. The society also organises several competitive events during "Vibrations".
Office Bearers:
| | | | | | |
| --- | --- | --- | --- | --- | --- |
| # | Name | Course | Post | Contact | Email ID |
| 1. | Dhuruv Chandolia | BBE Honours | President | 9599666150 | dhuruvc78@gmail.com |
| 2. | Sahil Kumar | B. A. Programme | Vice President | 8607331106 | sahilkeshva11@gmail.com |
| 3. | Hiten Khurana | B.Com (Hons.) | Secretary | - | - |
| 4. | Vansh Dhingra | B. Com (Prog) | Treasurer | 7838276425 | vanshdhingra50@gmail.com |
Vayam: The Theatre Society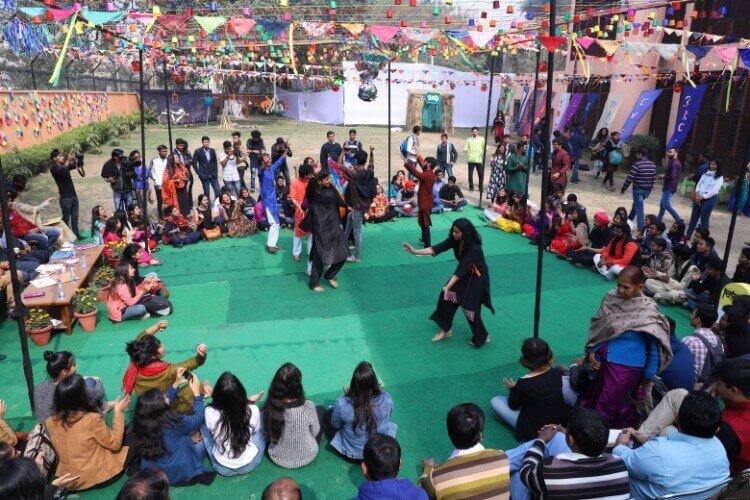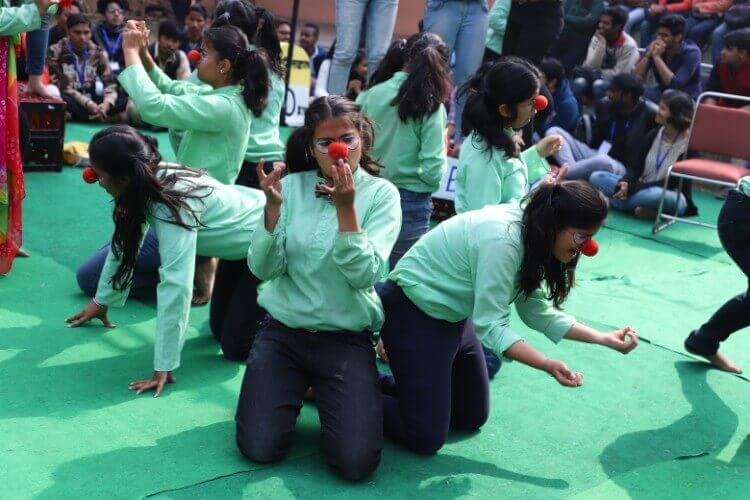 Vayam is not just a name. It is a spirit that has evolved over the past 12 years through consistent hard work, creativity, and innovation. Vayam, the theatre society of Shivaji College was founded in year 2006. Since then there has been no looking back. It has continued the legacy of winning and performing its street/stage play productions at many reputed and distinguished platforms. On numerous occasions, Vayam has performed at National School of Drama (NSD), Prithvi Theatre, Siri Fort Auditorium, Kamani Auditorium, Shri Ram Centre for Performing Arts. In 2016, Vayam was adjudged as the Best Team at Nukkad Natak competition in Udaan Utasav. It also won awards for the Best Script, Direction, Music, and Actor in that event. A cash award and participation certificate was awarded at a workshop held in NSD. Today Vayam stands as one of the most renowned college theatre groups with more than 250 people turning up for auditions every year. Vayam instills a sense of belongingness, and this is evident from not only the dedication of the present members but also from the support Vayam continues to draw on its alumni base.
Vibgyor: The Fine Arts Society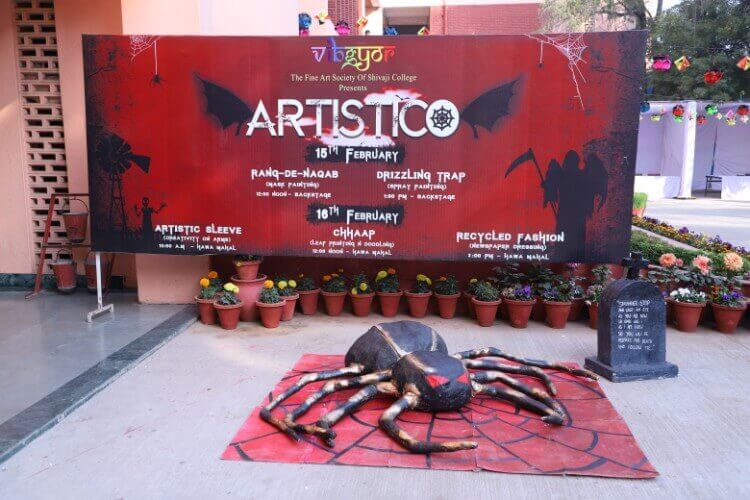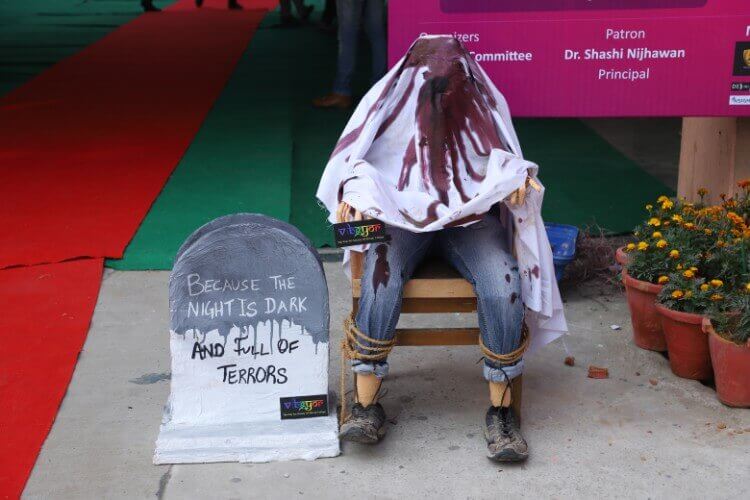 The Fine Arts Society - Vibgyor provides an excellent platform for students with artistic bent of mind. Completing its ninth year, Vibgyor has become one of the most active and recognised Art Societies in the University. The society hosts its own art exhibition every year where students get the opportunity to display their artworks. The society during the College Annual Fest "Vibrations" gives an opportunity to its members to exhibit their talents by working on life-sized 3D models, flexes, caricatures, and other art works. They are then displayed decoratively. Every year, the Vibgyor team has challenged itself and excelled in its creative expressions. Vibgyor also actively participates in inter-college festivals held across the University. Members in this society have won numerous prizes at various colleges. The society had put together an exhibition-cum-workshop, ACRYLICA. In 2017, this event was conducted by eminent artist Ms. Navneet Kaur. Vibgyor also organises several competitive events such as rangoli making, poster making, face painting, T-Shirt designing Grafitti, and many more.
Other Societies
Eco Club: A Society for Environmental Education through Actions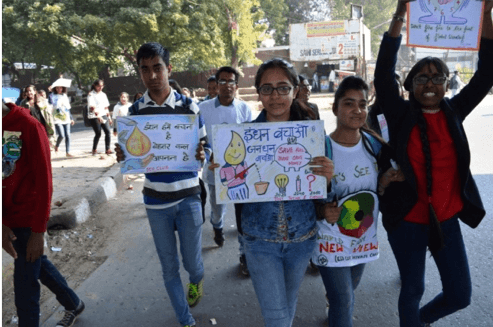 Eco-Club of Shivaji College, University of Delhi, is a multidimensional, highly active society that runs in co-ordination with the Department of Environment, Govt. of NCT of Delhi. The Eco-Club plays an important role in creating environmental awareness amongst the future generation. It is actively engaged in overall environmental education by adopting various environment friendly approaches for conservation and preservation of environment.
Eco-Club Initiatives:
To motivate students to keep their surrounding green and clean by participating in Plant and Adopt a Tree Campaign.
To sensitise students to save non-renewable sources of energy and use alternative sources of energy. The club engages in campaigns to save electricity and to encourage students to use solar panels and natural light as alternative to electricity.
To motivate students to imbibe habits and life style for minimising waste generation, separation of waste and disposing them off to the nearest storage point.
To encourage students to reduce the use of plastics/polythene bags and not to discard them in public places as they choke drains and sewers. As plastics are non-biodegradable, they cause water logging and provide breeding ground for mosquitoes. The club also promotes the use of healthier alternatives like jute, cloth, and paper bags. etc.
To educate students about concerns of e-waste, and the need for eco-friendly segregation of e-waste and its disposal.
To provide training of bioconversion/recycling of waste leaves into organic fertilisers through vermi-composting.
To train students to make blotting sheet from waste paper usingpaper recycling unit.
To educate the students about reuse, recycle, and reduce principle and preparation of products out of wastes like paper bags, paper packets, etc.
To celebrate various environmental days, such as International Ozone day (16 September), Wetland Day (2 February), World Earth day (22 April), International Biodiversity Day (22 May), Environmental Day (5 June), and weeks, like Van-Mahotsav, Wildlife Week etc.
To adopt good practices like gifting potted plants rather than flowers wrapped in polythene.
To promote the ethos of rainwater harvesting (storage and ground water recharge) and conservation of water by minimising the use of water.
To create awareness about harmful effects of noise and air pollution.
To spread awareness about flora and fauna (birds such as sparrow etc) in the college and its conservation.
To create interest and enthusiasm among students about issues pertaining to environmental sustainability. To this end, students are also taken for visit to natural ecosystems, bird watching sites, and biodiversity parks.
To arrange various awareness programmes such as lectures, quiz, essays, painting competitions, rally, nukkad natak, etc., that highlight various environmental issues.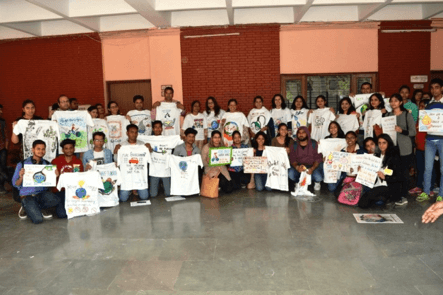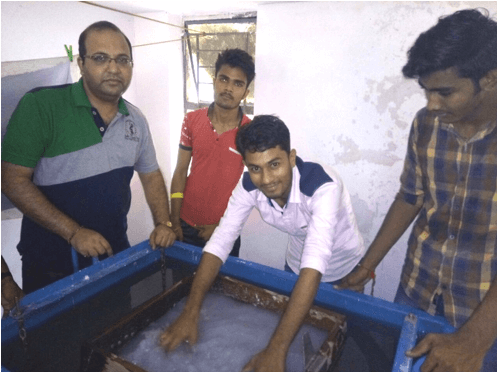 Highlights of 2017:
Pledge to Plant, Adopt & Protect a Tree Campaign - On September 15, 2017, the Eco Club observed World Ozone Day Eve. The occasion was marked by an insightful lecture on "Stratospheric and Ground-level Ozone" by an eminent speaker from Central Pollution Control Board (CPCB).
Eco club trained 250 undergraduate students of the college in making recycled paper through waste paper during July-Nov 2017.
Organised a one-day programme on 14 February 2017 to create environmental awareness on fuel conservation. A project on "Car pool: A Sustainable Option" was also launched. Among other activities, a signature campaign to "Save Fuel for Better and Safe Future" began with Dr. Shashi Nijhawan, Principal, Shivaji College, signing her commitment for the cause, followed by the signatures of staff members and students.
National Cadet Corps (NCC)
The N.C.C. Unit at Shivaji College is a full-fledged community of motivated and trained youth that exhibits leadership qualities in the activities they had undertaken in the past. The Unit is driven by the aim of the NCC "To Develop Character, Comradeship, Discipline, Leadership, Secular Outlook, Spirit of Adventure, and Ideals of Selfless Service amongst the Youth of the Country". Lt. Dr Rajinder Singh is the NCC-in-charge for Boys and Ms Deepti is in charge of the Girls wing. The Boys NCC Unit at Shivaji College is attached to the Second Delhi Battalion, ITI Pusa, New Delhi. The Shivaji College NCC (Girls wing) comes under 7 Delhi Girls Battalion, Kirti Nagar. Overall there are 160 seats in the college.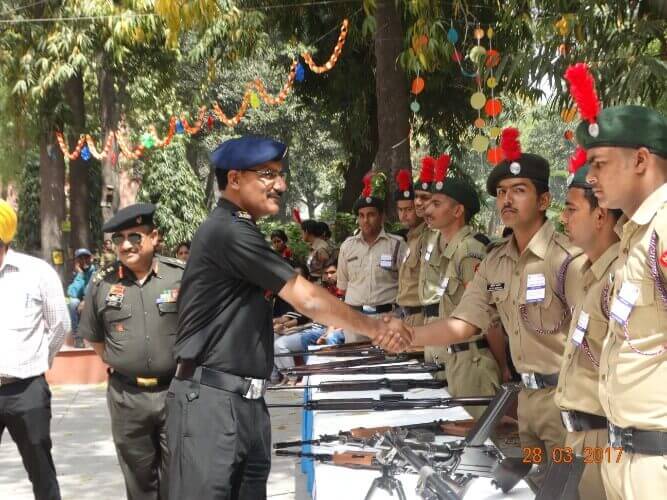 The cadets are offered a variety of courses including those for Indian Military Academy, Officers Training Academy, Basic Mountaineering course, Para Sailing and Para slithering etc.Cadets from the NCC Girls Wing participate in the Republic Day Camp, Thalsainik Camp, All India Adventure Trekking Camp, National Integration Camp, Combined Annual Training Camp, Adventure Camp, Army Attachment Camp and All India G.V Mavalanker Shooting Championship.
Moreover, the cadets also participate in various social welfare programmes like blood donation camps, community education, and environment awareness programmes in socially and economically backward areas. In keeping with the tradition of excellence, the NCC units at Shivaji College have excelled in programmes and activities held at various levels.
NATIONAL SERVICE SCHEME (NSS)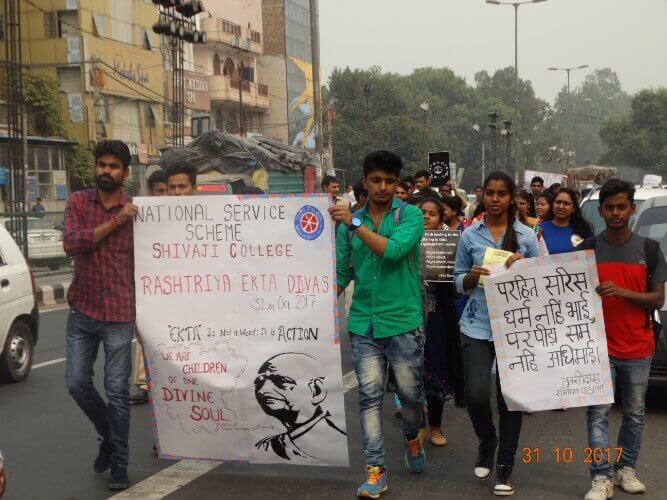 The NSS Unit of Shivaji College is committed to the cause of social upliftment and education and, in this pursuit, several small and big initiatives have been taken up from time to time. Several activities like debates and discussions, cleanliness drive, health check-up, blood donation camps, soft skill enhancement workshop, and social awareness programmes are organised for college audience as well as community outside the college. It also organises both self-defence workshops and mind-body connecting activities like yoga.
The NSS Unit has served the college by sensitising students to the present day social issues. It is committed to imbibing among the youths of Shivaji the spirit of truth, patriotism, and honesty. Always, this unit will strive in its mission of transforming this society and the nation.