Principal's Desk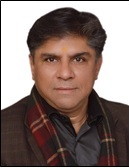 Dr. Shiv Kumar Sahdev
Principal (Acting)
Dear Students,

Shivaji College is a premier institution of higher education of University of Delhi. The college has garnered a reputation for academic rigour and for nurturing a vast gamut of talent. The College provides a holistic experience to the students and is therefore the preferred choice of those who wish to make a mark in different fields and become global citizens. The college has excellent amenities and infrastructure, follows desirable pedagogical approaches and has an enviable record in extra- curricular activities. The all-encompassing experience provided by the college helps students shape their personhood. We are proud of the young women and men of Shivaji College who have done exceedingly well for themselves in life.
If you wish to excel in the academic sphere and simultaneously hone your talent, pursue best practices, take entrepreneurial initiatives, extend your service to the community to better your life and those of the others, then Shivaji College is the place to be in.
I welcome you to join the Shivaji College fraternity to follow your dreams.
Principal.