Entrepreneurship Development Cell (EDC)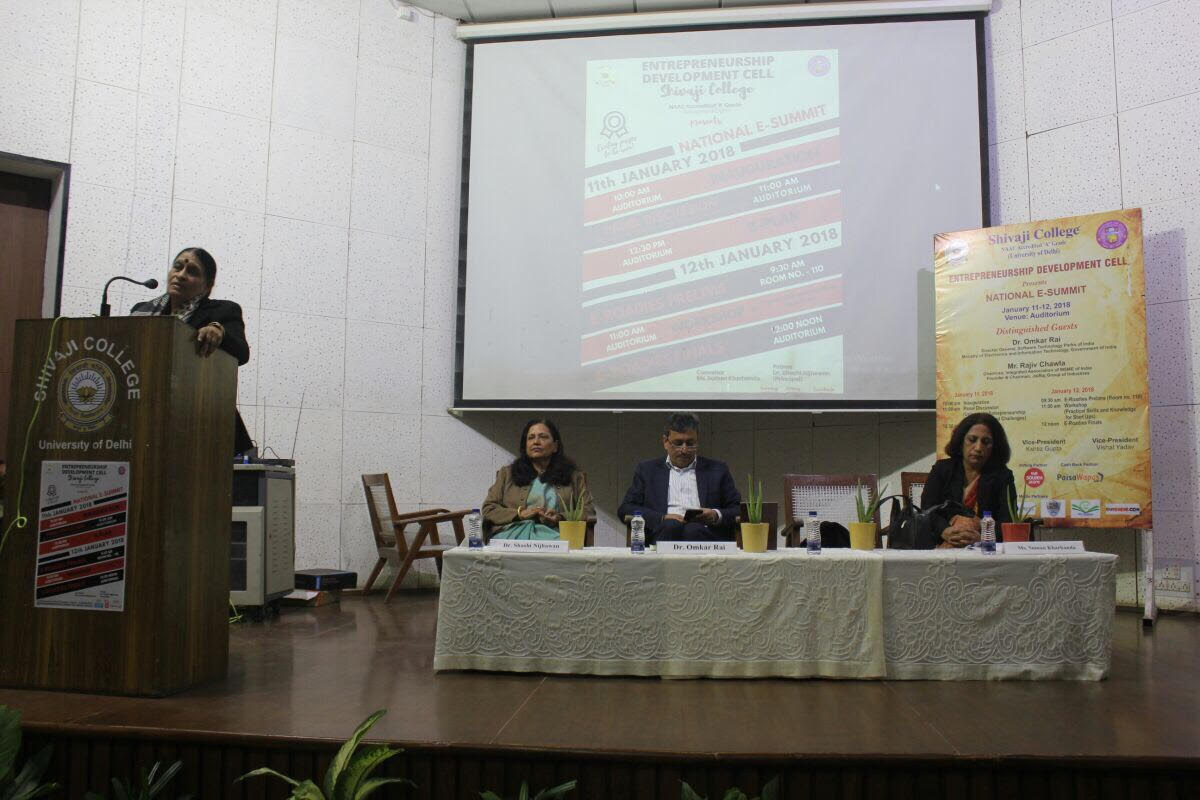 The Entrepreneurship Development Cell (EDC), Shivaji College, has the mission of fostering entrepreneurial outlook and promoting the environment for being job creators among youth. It works towards equipping students with the required skills and motivation to become entrepreneurs.
Team EDC
List of Members in different teams as part of EDC 2018-19 : View
EDC in 2017-18
Orientation Program, August 17, 2017
Dr S Lakshmi Devi, Hony. Director, Centre for Entrepreneurship and Career Oriented Programs, University of Delhi, and Professor S.K Palhan Founder Director, Great Lakes Institute of Management and Advisor, Indus Quality Foundation were the esteemed guests at the event. The orientation program was marked by interactive and motivating sessions by the guest speakers.
B-Plan competition, September 2017
In this competition, budding entrepreneurs from different streams of the College presented business plans on which they could place all their stakes. The event concluded with the final round, where there were eight shortlisted teams who presented their business plans to audience and judges. They took on challenging questions from judges and audience with commendable conviction thereby inspiring others to think likewise.
Paper Recycling Unit
The Cell collaborated with the Eco Club of the College and brought the paper-recycling unit to a new life. This not only gave them a hands-on-training to handle a production process, but also inculcated a sense of team spirit and responsibility to meet targets. The students were trained for the production of recycled Paper and the sheets produced were used in the Science labs of the College and in cultural festival of the College.
Entrepreneurial Summit, January 11-12, 2018
This two-day mega event witnessed a rendezvous with motivated students, aspiring entrepreneurs, CEOs, and established professionals. The programme comprised guest lectures, workshops, panel discussions and competitions to recognize and reward the spirit of entrepreneurship. The Summit was inaugurated by Dr Omkar Rai, Director General, Software Technology Parks of India (STPI), Ministry of Electronics and Information Technology, Government of India, and Sh. Rajiv Chawla, Chairman, Integrated Association of Micro, Small & Medium Enterprises of India (IamSME of India)
Panel discussion on "Unleashing Entrepreneurship: Challenges and Opportunities"
This event was organised following the inaugural session of the E-Summit. The following esteemed panelists enlightened the audience :
Ms. Kanta Singh, State Project Head, United Nations Development Program
Mr. Sumeet Kapur, Co-founder, Nearbuy
Mr. Aushutosh Bhardwaj, Co-founder and CEO, Techie Amigos
Mr. Abhijeet Malhotra, North India Head - Lead Angels
Mr Sunny Garg, Co-founder and CEO, Yourshell
Inter College Business Plan Competition
This event was organised during e-summit that received participation from various colleges of Delhi and outside Delhi. First prize was won by Cluster Innovation Centre, University of Delhi. Second Prize was won by the teams from Delhi College of Arts and Commerce and Shri Guru Gobind Singh College of Commerce, University of Delhi. This event witnessed very innovative ideas from students across various universities.
"E Roadies"
This event was conducted at national level to test the grit and guts of young aspiring entrepreneurs. In this competition, Apeejay School of Management won the first and Shivaji College won the second prize.
Workshop on "Essential practical skills for entrepreneurs", January 12, 2018
Ms. Shruti Sinha from Wadhwani Foundation conducted this event on the second day of the E-Summit. The workshop was well attended by students from various streams of Shivaji College.
Entrepreneurship Educators Program organised by the National Entrepreneurship Network, Wadhwani Foundation, an internationally acclaimed organisation for development of entrepreneurial skills : Faculty members, Ms. Urvashi Sahitya, (Department of Business Economics) and Ms. Shweta, (Department of Commerce) undertook this week long training in November 2017.
National Entrepreneurship Network (NEN) curriculum was launched in the College in January 2018. In this course, training sessions are held every Saturday. The enrolled students are mentored and imparted entrepreneurial skills by the trained faculty members of the College. The training is vibrant, activity based and motivating. Students are provided practical knowledge with real life examples, case studies and projects. It is mandatory for students to have at least 70 % attendance in the course to be eligible to appear for the semester end examination. The students are awarded Certificate on successful completion of the course. This training is unique to Shivaji College in the University of Delhi.